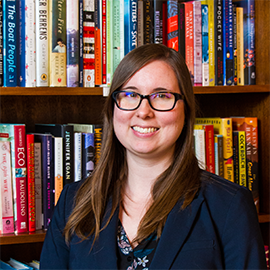 Alexa Heenan
Victoria, BC
Education

BA (Hons), Art History, University of Regina
MA, Art History and Visual Studies, University of Victoria

Alexa Heenan is originally from Regina, Saskatchewan, Treaty 4 territory of the Nêhiyawak, Anihšināpēk, Dakota, Lakota, and Nakoda, and the homeland of the Métis/Michif Nation.

Alexa obtained a Master of Arts from the University of Victoria in Art History and Visual Studies and a Bachelor of Arts with Honours from the University of Regina in Art History. Her interests include contemporary Indigenous art and photography, and the history of collecting and archiving which allow her to support the research team in developing visually engaging historical reports, specific claims and other materials.

Alexa's specialties are in the areas of alternative narratives which incorporate Indigenous visual culture, oral histories and perspectives which have been ignored within colonial spaces. This approach opens up new avenues of exploration into the Specific Claims process and provides a new lens through which to present historical information across the various reports HCG prepares.

In her spare time, Alexa enjoys wandering around antique stores, exploring small town museums, and collecting art from local and emerging artists.